CH NewPoint Rock Around the Clock "Haley"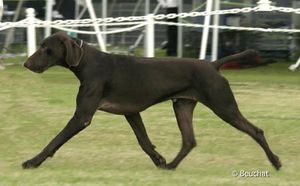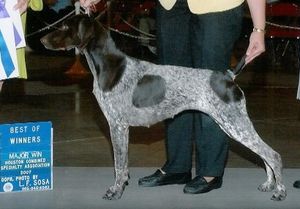 Am Can Hungarian Luxembourg World CH Malomkozi Delceg
X
Am Intl (Natl Intl JA) Ch NEWPoint Southwind Let It Snow JH RAE ASCA CD VC
CGC
"Aspen" has both her AKC breed Championship and her National and International breed championships as well as her National and International puppy championships. She has her Junior Hunter title and her Rally Advance Excellent (RAE) title.  She has an ASCA companion dog title, the Parent club versatility certificate and her canine good citizen. Aspen is also training in agility, tracking and further obedience. She is CD normal (cleared by parentage),OFA hips Excellent (GSP-13367E28F-VPI), OFA elbows Normal (GSP-EL1007F28-VPI), eyes are CERF clear (CERF#GSP-1812/2007--22), and her DNA profile number is V444136.
"Delceg" is a solid liver Hungarian dog. He has his AKC breed Championship as well as breed championships in Canada, Hungary, Luxembourg and is also a World Champion. He is CD normal, OFA hips Good, OFA cardiac clear, and eyes are clear.            
4-17-09 Shreveport Kennel Club RWB First time in the ring at the age of 6 months 3 days old under Judge Mr. Ronald Menaker
4-20-09 D'Arbonne Kennel Club WB/BOW for 2 points under Judge Mrs. Gloria Geringer
4-24-09 Montgomery Kennel Club WB for 2 points under Judge Mr. Robert Moore
4-26-09 Cahaba Valley Kennel Club Best of Breed for a 3 pt Major under Judge Ms. M. Ann Schwartz and also makes a cut in the Groups at the age of 6.5 months
5-15-09 Kennel Club of Greater New Orleans RWB under Judge Ms. Cindy Vogels
5-15-09 Mississippi Gulf Coast KC BEST IN MATCH
5-17-09 Kennel Club of Greater New Orleans RWB under Judge Mr. Norman Kenney
5-31-09 Baton Rouge Kennel Club WB for 2 points under Judge Mrs. Gloria Geringer.
8-29-09 Bayou Kennel Club WB/BOS for 1 point under Judge Ms. Deborah V Boyd
9-13-09 Mobile Kennel Club WB for 3 pt Major under Judge Mrs. Lee Canalizo
2-06-10 Southeast Arkansas Kennel Club for 1 pt under Judge Mrs. Gloria Geringer
2-07-10 *NEW CHAMPION*  Southeast Arkansas Kennel Club for 1 pt under Judge Mr. Eugene Blake

You are visitor number: 166822